The Big Upgrades
Poly Patio Furniture: A Durable & Popular Upgrade From Wood
Gathering around the fire pit for smores is much easier with comfortable seating for you and your guests. If your patio furniture is wearing down or you're looking to convert from wood to poly, we've got you covered.
We stock dining sets in a variety of sizes, Adirondack-style chairs, picnic tables & benches, and more.
Our poly wood outdoor furniture is made by Amish woodworkers who care about quality. You can choose from 20+ colors and many furniture styles including: Adirondack, English Garden, Coastal, and Picnic tables and benches. All our outdoor furniture is made with the highest quality recycled poly lumber.
Standard Features:
Premium grade recycled poly lumber
20+ color options/combination
Affordable local delivery & setup
Swingset: More Play Time at Home
Give the kids hours of fun playtime in the safety of your backyard, where you can keep an eye on them.
Our Amish-constructed wood swingsets can include fun elements such as swings, slides, ladders, and climbing walls. You can choose from blue or green plastic components.
Standard Features:
2-year warranty
100% pressure-treated pine construction
Free canyon brown stain + sealer
Wood swing set with slides, climbing wall, and swings.
Fun Upgrade: Create a Swingset Waterslide
Place a tarp under the slide and set up a sprinkler. Angle the sprinkler so it lands on the slide and the water flows down to the tarp. You've got yourself a homemade waterslide!
Playhouse: Ignite a Child's Imagination
With their own playhouse in the backyard, kids can play pretend with friends, create their own world, and have adventures they'll remember and cherish as they get older.
Standard Features
10-year warranty
100% plywood construction
Free delivery and installation
8×12 Cabin style playhouse. Clay siding, tan trim, tan roof & black shutters, optional porch swing. Includes loft area above porch and adult-size back door.
Fun Upgrade: Build a Fairy Garden Near the Playhouse
Extend the fantasy world from inside the playhouse to outside with a fairy garden. A fairy garden is a decorative miniature garden usually grown in a small pot, planter, garden bed, or container. Most garden centers have supplies to create a fairy garden.
Here are instructions on  how to build a fairy garden.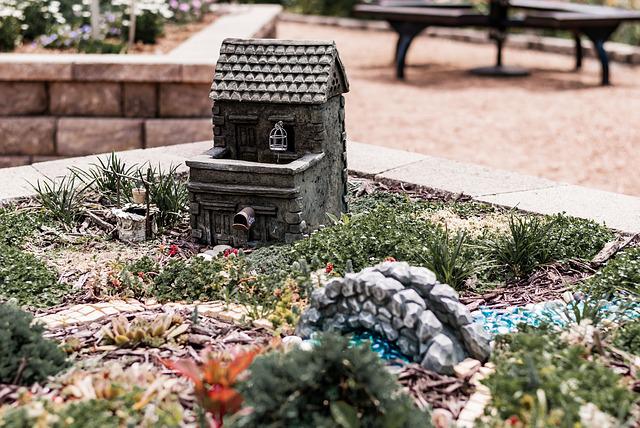 Local supplier
A Piece of Paradise in Exeter has the largest selection of fairy garden supplies in Rhode Island. Call them at 401-397-9939 for more information.
Smaller (But Still Fun) Upgrades
Chiminea: Add Light & Warmth for Your Outdoor Space or Patio
Chimineas provide warmth on cooler evenings and an ambiance that makes outdoor gatherings cozier and more enjoyable. They are a perfect choice for a patio fireplace. Larger chimineas can provide more uses (heat source and for cooking), while smaller ones work best as a light source.
What is a chiminea?
A chiminea is a handcrafted wood-burning firepit ideal for backyard and patio areas. Our chimineas are handmade in Guadalajara, Mexico using El Barro clay.
How do you use a chiminea?
Dry wood (twigs and small branches) is best used for burning in chimineas. Keep the fires small during the first few uses to build up an ash base. If flames shoot out the top that means you're using too much wood! Fires that are too hot could potentially damage the chiminea or create a dangerous situation.
Chimineas on display at our showroom in Narragansett.
Pro Tip (If You Have Kids or Grandkids): Get Bunch O' Balloons
What is more fun than water balloons in the backyard? The answer is nothing.

What are Bunch O' Balloons?
Pre-tied water balloons that attach to a garden hose, allowing you to fill 35 balloons in about 30 seconds.
How do you use them?
Attach the balloon stick to the end of a garden hose and turn on the water. Once the balloons are filled and heavy enough, they will drop off and tie themselves shut. It's best to fill balloons in a kiddie pool or large bucket filled with water so they have a soft spot to land.
Where can you get them?
Lots of places. Walmart, Target, Amazon, and Costco regularly have them in stock.
Make Filling Balloons Even Easier
Get a garden hose shut-off valve to make filling balloons even easier on yourself. The valve allows you to control water flow, so you can fill the balloons wherever you want and you don't need to be near the water spigot that's attached to the house.
Local Delivery & Setup Services
Delivery and installation of larger items such as sheds, pergolas, and pavilions in RI and Southern Massachusetts are included in the purchase price. Smaller items including furniture, some swing sets, cupolas, arbors, etc. we can often route in with deliveries we have in your area to save on shipping. Call for more details on arranging delivery to your area.
Contact Us
Lakeside Trading is your source for custom outdoor storage and living solutions. Our unique showroom and display yard located on South Pier Road in Narragansett is always stocked with a wide variety of sheds, gazebos, premium patio furniture, swing sets, and more!
Call 401-496-8841 if you have questions or would like to place an order!
Contact Us